You seem them every time you take a trip to the grocery, drug, or discount store: shopping carts. These objects are extremely handy and allow you to easily push a great deal of products around without having to worry about their weight or bulkiness, all the while keeping your hands free and clear. Shopping carts are a seemingly harmless tool that is so commonplace, most people never even think twice about using them.
While shopping carts are common and people use them all the time, they are not completely without risk. Parents place their children in these objects on a daily basis, and never give a thought about the safety of doing so. Unfortunately, it is estimated that for the year 2005 alone, more than twenty four thousand children were treated in hospitals for injuries that related to shopping carts. These injuries ranged anywhere from bumps and bruises to fatalities. This information prompted a number of top pediatricians in the United States to issue a warning in 2006 that advised parents to avoid placing children in shopping carts.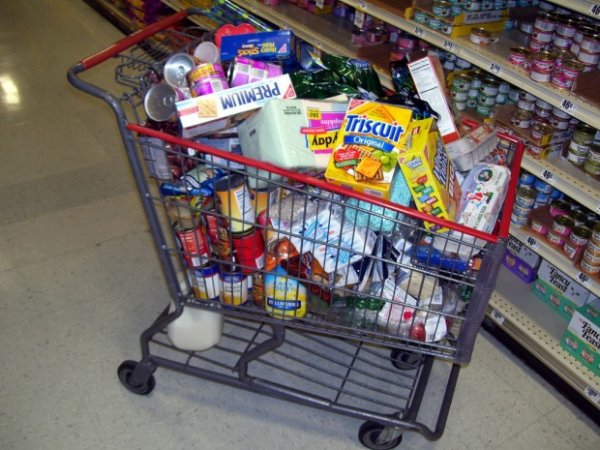 It has been estimated that about fifty eight percent of all cart injuries that involved children were because of falls. In another twenty six percent of cases, the cart actually tipped over, which accounted for a number of injuries in children under the age of two years old. These situations often involved an older child standing in the cart or climbing on the cart. In many cases other children were harmed when the cart tipped and the child became trapped, were run over by a shopping cart, or fell when holding on to the outside of the cart. Serious injuries result from shopping cart accidents because most units are about four feet off of ground level.
A large number of accidents involving carts that result in injuries or deaths happen because a child reaches for an object they see on a shelf. This usually happens when the parent looks away for a moment or is not paying complete attention. A Canadian research study found that an average preschool aged child could free him or herself from the shopping cart seat in as few as three seconds. A 20/20 investigation done by ABC News found that shopping carts can crash straight to the ground with even a gentle push. A doctor with Columbus Children's Hospital, Dr. Gary Smith, found that shopping carts that allow children to stay lower to the ground may help to prevent serious injuries. He also noted that stores that utilize greeters that remind parents to secure their child properly in the shopping cart tripled the number of parents who did so.
The Consumer Product Safety Commission (CPSC) asserts that when they set forth these standards, they investigated the issue of stability and found that the majority of injuries that took place involving shopping carts had nothing to do with stability. Instead, the agency noted that most injuries happened from falling off or falling out of the shopping cart. Because of this, the CPSC moved their attention to warning labels on the carts, and requiring the use of seat belts.
Even though there have been a number of safe guards put into place, there are still many children who suffer injuries because of shopping carts each and every year. In some of these cases the parents may not have known how to properly restrain the child so that they are safe in the cart, while in other cases, the store may have failed to properly maintain the cart. In these cases seat belts may have been removed, warning labels may be worn off, latches may be broken, or the seat may be incomplete. When this happens, the store can be held accountable for any injuries that may result.
If your child has been injured because of a shopping cart injury, you should not delay in speaking with a qualified personal injury attorney who specializes in premises and/or product liability. These professionals will examine all aspects of your case to determine all the parties that need to be held accountable and get you the justice you deserve.
Most personal injury attorneys work on a contingency basis, which means you do not have to pay anything upfront, and you do not have to worry about funding your claim as it progresses throughout the court system. For the most part, most attorneys require no payment until the time your case settles. This can be a great comfort during a time that is already quite stressful and difficult.
Shopping cart manufacturers as well as the stores that offer this convenience feature owe the public at large a particular duty of care to provide safe carts that comply with all regulatory standards. If this duty of care is breached for any reason a form of negligence has occurred and legal action can be, and should be taken.
While a personal injury attorney cannot undo the harm that has been done to your child, he or she can work hard to get you compensation for your damages. In most cases, compensation can be awarded for past, present, and future medical expenses, as well as emotional harm, and pain and suffering.
Since most of these cases are quite complex in nature, it is not recommended that you attempt to file on your own. A personal injury attorney knows the ins and outs of this area of the law better than anyone and will work diligently to get you the most favorable outcome possible. Hiring a personal injury attorney to handle your case is not only something you should do for yourself, but it will also help to protect others from having to suffer the same harm in the future. Do not hesitate to discuss the details of your case with a personal injury attorney. The sooner you contact them following your child's shopping cart accident, the sooner he or she will be able to file and the better your chances of success will be.